DG-Geotechnical Department
The Macau Laboratory of Civil Engineering - LECM - Geotechnical Department
Geotechnical Department is responsible for technical service on ensuring that government projects quality control works, provide professional and technical advice to the Government in geotechnical field, to establish relevant code and design guide, preparation of bill of quantities, standard method of measurement, relevant technical specification, participate the works of Government slope safety group. Receive commission from the Government, our partners in work and the construction industry about geotechnical engineering's research, and provide technical advice services such as slope automatic monitoring system, deep excavation monitoring system, soft soil treatment.
Our scope of services includes foundation and deep excavation, slope protection and earth retaining works, embankment and reclamation engineering, ground improvement, engineering geological survey, like geophysical exploration, drilling and sampling, fi eld testing, and laboratory testing. Planning, installation and take reading of geotechnical monitoring system, analysis and evaluation of monitoring results.
A geotechnical databank is a powerful tool to maximize efficiency during the planning and preliminary design of major construction projects. DG established a geotechnical data bank through the compilation of soil investigation data obtained from various sources, ranging from building departments and site investigation carried out by DG, drilling and sampling, field testing, laboratory testing. Using global positioning system and geographic information system and computer software.
About research and development, the department is working in soft clay characteristics and foundation engineering, soft ground improvement technique, application of numerical simulation techniques, development and application of case studies on geotechnical engineering problem and Pavement works. The future research works will include safety assessment and monitoring for tunnel construction, automatic real-time monitoring system to slope safety, improvement of performance for asphalt concrete, and geophysical exploration.
In addition to the above responsibilities, the department also oversees the operation of our two testing centers, namely, Center of Foundation and Prospecting, Center of Soil and Pavement. Center of Foundation and Prospecting – NFP, it provides services for projects involving extensive use of deep foundations, aiming the geotechnical testing of their load capacity, through fi eld static and dynamic pile load tests, sonic integrity tests, pile driving analysis, cross-hole sonic logging tests. Besides, it performs site investigation to provide the soil design parameters evaluation for construction of civil engineering, and also carries out geotechnical monitoring to provide the identification of the potential problems of the site and information for back analysis for the design and construction. Center of Soil and Pavement– NSP, it provides a full range of laboratory soil testing, in-situ testing and quality testing for pavement to international standards. It provides services in the areas of quality control on the execution of geotechnical works, such as: soil characterization; shallow foundations of structures; road and pavement foundations; backfills; bituminous concrete pavements and quality testing for pavement.
Throughout the years, DG has more advanced testing equipment for pile testing, soil testing and pavement testing and qualifi ed staff. In 2007, the quality assurance of two centers was certified with ISO9001 and ISO17025 accreditation. Provide adequate resources and training to department's staffs, we organize and encourage our colleague to attend Geotechnical Engineering Seminar, to join Professional Geotechnical Engineering Association, to continually improve our quality, environmental, health and safety performance and effectiveness, to develop high quality professional services to meet Macau's development needs.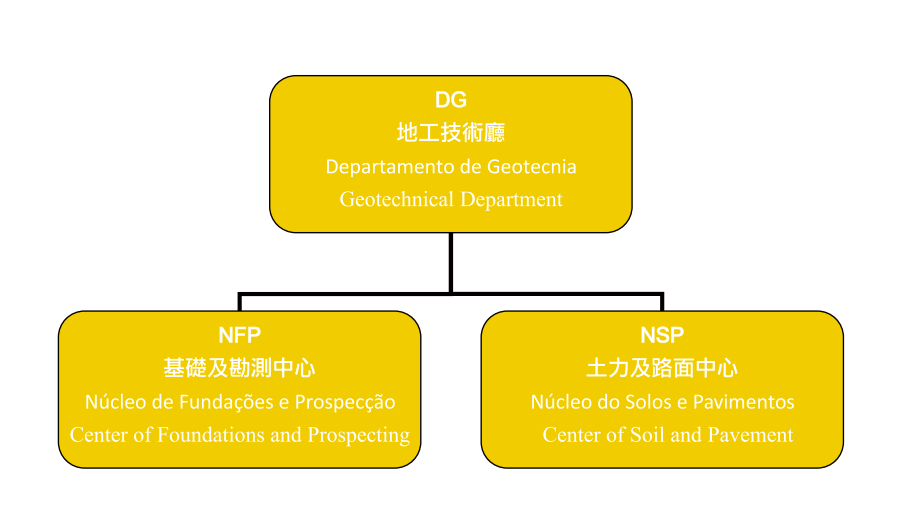 Establish relevant code and design guide